I'M BACK HOME AFTER 22 YEARS IN JAPAN AND ASIA.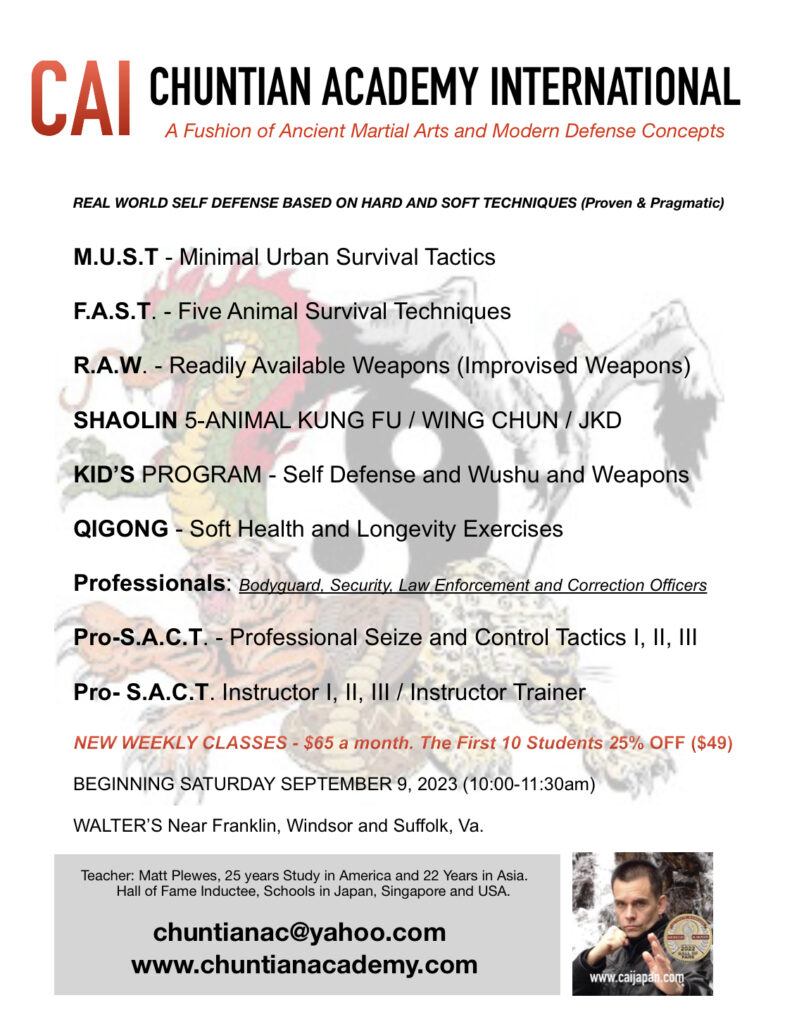 NEW CLUBS/ CLASSES/ SEMINARS STARTING SOON!!
TEL. 757-751-7578
EMail: Chuntianac@yahoo.com
FIRST CLUB-ADULTS AND JUNIORS.
(Age 13 and up).
RATES WILL BE VERY REASONABLE.
WALTER'S AREA NEAR WINDSOR, VA.
SATURDAY MORNING, SEPTEMBER 9, 2023. (10:00 – 11:30am)
THIS IS NOT A SPORT OR GROUND GRAPPLING SPORT-STYLE. LIKE THE REAL WORLD OF CONCRETE, ASPHALT AND GLASS RIDDLED ALLEYS-WE AVOID THE GROUND AND REACT VERY SERIOUSLY IF ON THE GROUND.
WE FOCUS ON THE APPROPRIATE RESPONSES. FROM AVOIDING, ESCAPING, CONTROLLING AND SURVIVING. PRAGMATIC AND PROVEN. DEVELOPED FROM 20 YEARS OF STUDY AND TEACHING IN AMERICA AND THE LAST 22 YEARS IN ASIA.
HAVE A LIMITATION OR DISABILITY? THINK YOU'RE TOO OLD? OUT OF SHAPE? NO PROBLEM. UNLIKE MOST STYLES OR SCHOOLS, YOU ARE NOT FORCED TO CONFORM TO THE STYLE. THE TEACHER HAS A WEALTH OF EXPERIENCE AND CAN CONFORM THE PROGRAM AROUND YOUR WEAKNESSES AND STRENGTHS!
BUT YOU WILL GET HEALTHIER AS WE ADD HEALTH AND LONGEVITY EXERCISES IN EACH CLASS.
OTHER CLUB LOCATIONS COMING SOON!
CONTACT US IF YOU WANT TO HOST A CLASS (CLUB), CLASS OR SEMINAR.         Ex. GYM, LAW ENFORCEMENT OR SECURITY AGENCY, CHURCH, SEMI-PRIVATE, etc.
eMail: chuntianac@yahoo.com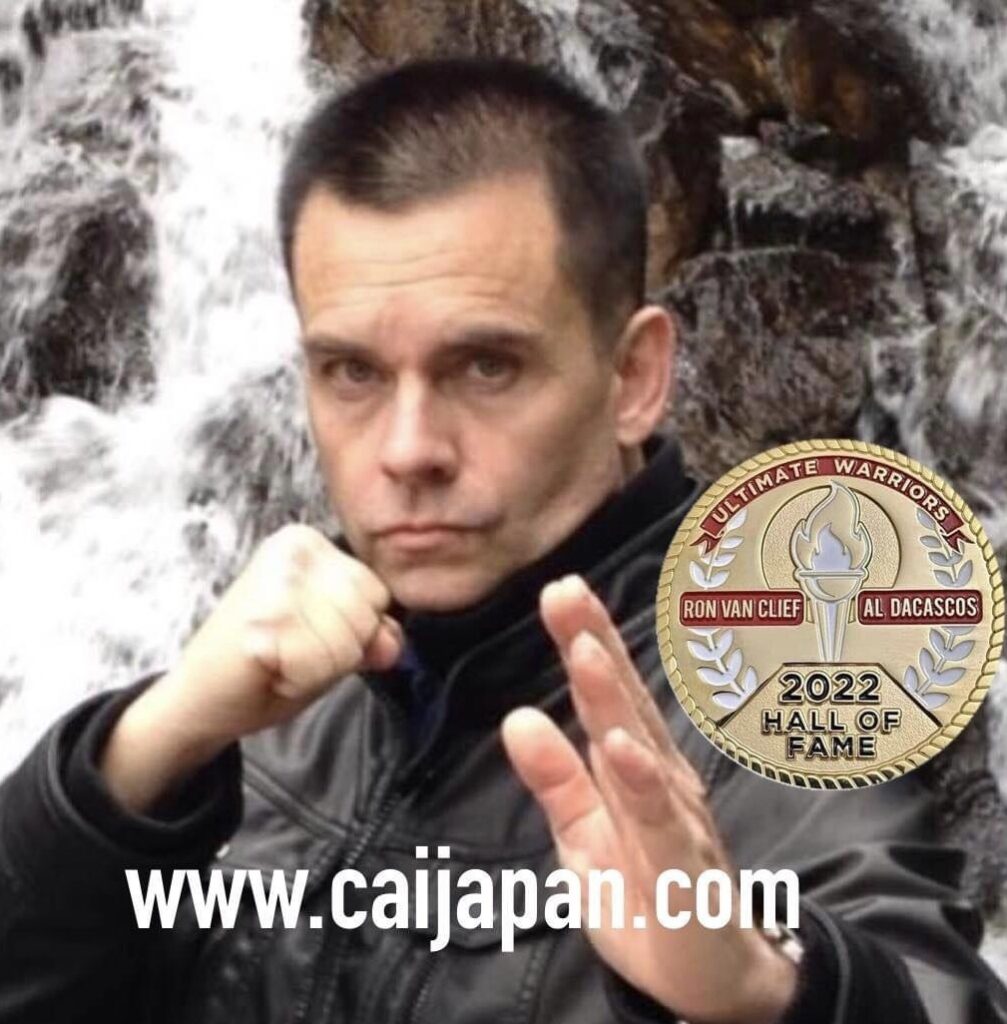 INSTRUCTOR: MATT PLEWES, 8th DEGREE, 46 years of study and 2 Hall of Fame Honoree. Featured on TV multiple times in Japan.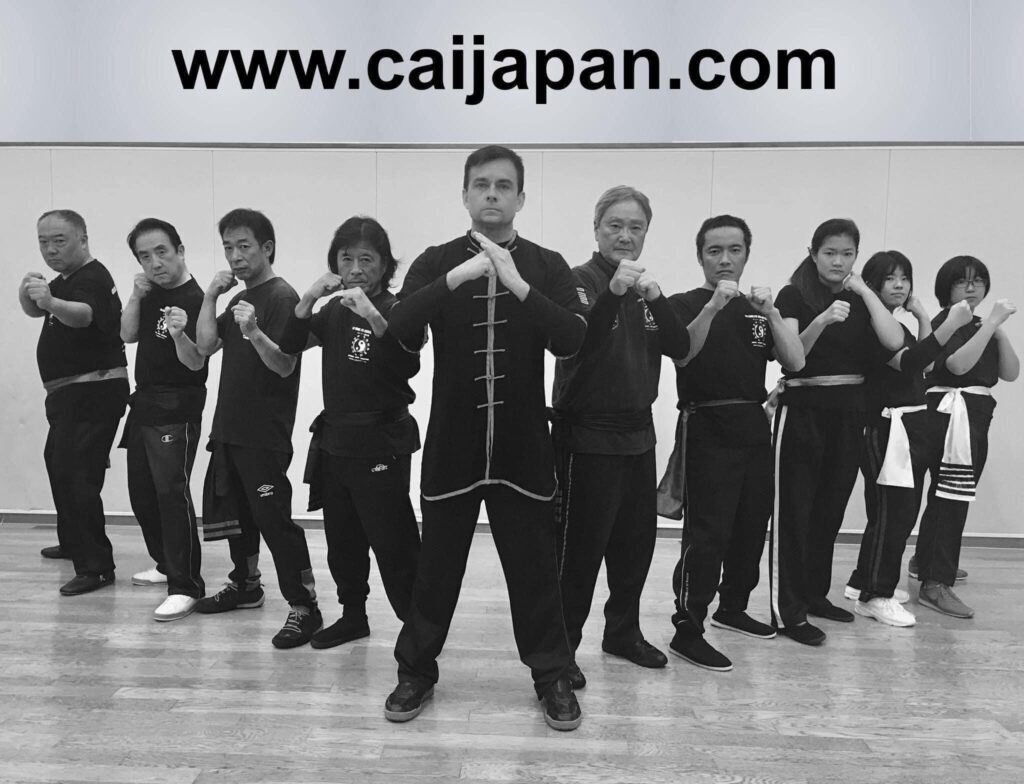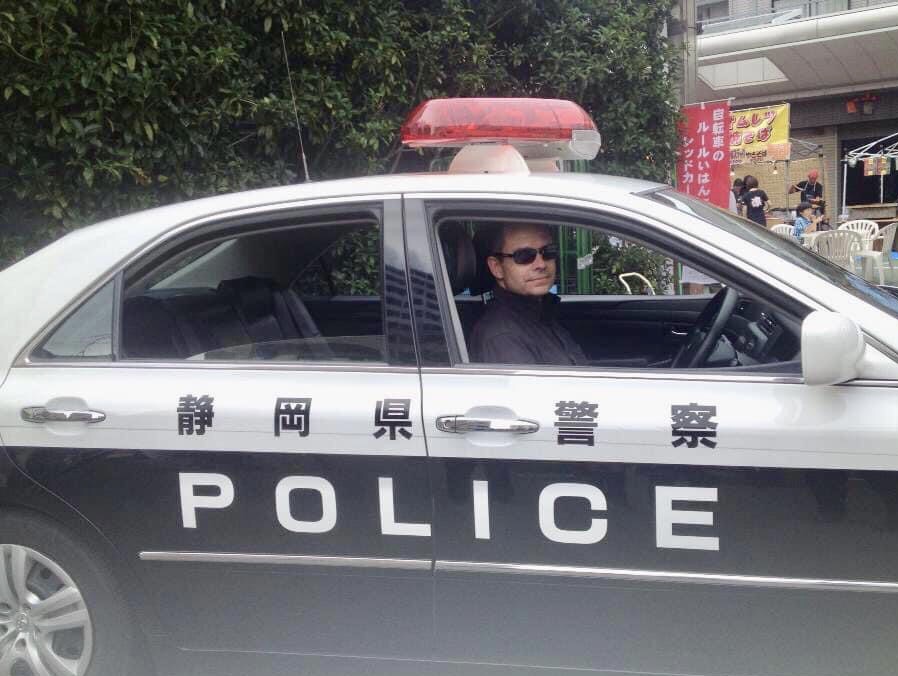 NOW AVAILABLE:
TAI CHI, QIGONG – Each class starts with soft moving exercises anyone can do. A feeling of relaxation and rejuvenation. Slow and steady. If you're not interested in the self defense or control programs, you can take these health and longevity classes only.
B.E.A.R. – Basic Escapes And Run. A program focused on grabs, holds and chokes. The initial phase of an abduction or attack.
M.U.S.T. – Minimal Urban Survival Tactics. A must for everyone. Escapes and Punch defenses. Safety awareness and an introduction to improvised weapons.
Pro-SACT- Professional (Seize And Control Tactics) Matthew has 45+ years in non-sport martial arts and 25 years in security and protection services. Specializing in Police, Security, Correction Officer Enhancement training in America 1995-2001. From 2001 to 2023 in Japan.
F.A.S.T. – (Five Animal Survival Tactics) A five directional emergency escape and attack system when surrounded or outnumbered and in an emergency escape situation. Kinu Mutai ground defenses.
LONG PROGRAM- Progressive Studies in Wing Chun Blocking and Drills. Five Animal Kung Fu and Jeet Kune Do Concepts.
INSTRUCTOR TRAINEE PROGRAM
CHILDREN PROGRAMS COMING SOON!
Self Defense plus pragmatic close-range kung fu. Wing Chun, Five Animals and traditional forms with Tai Chi and Qigong.
Coming to Suffolk, Virginia Area in July 2023…
45 years of study and teaching. Including 22 years in Japan and Asia.
Two Time HALL OF FAME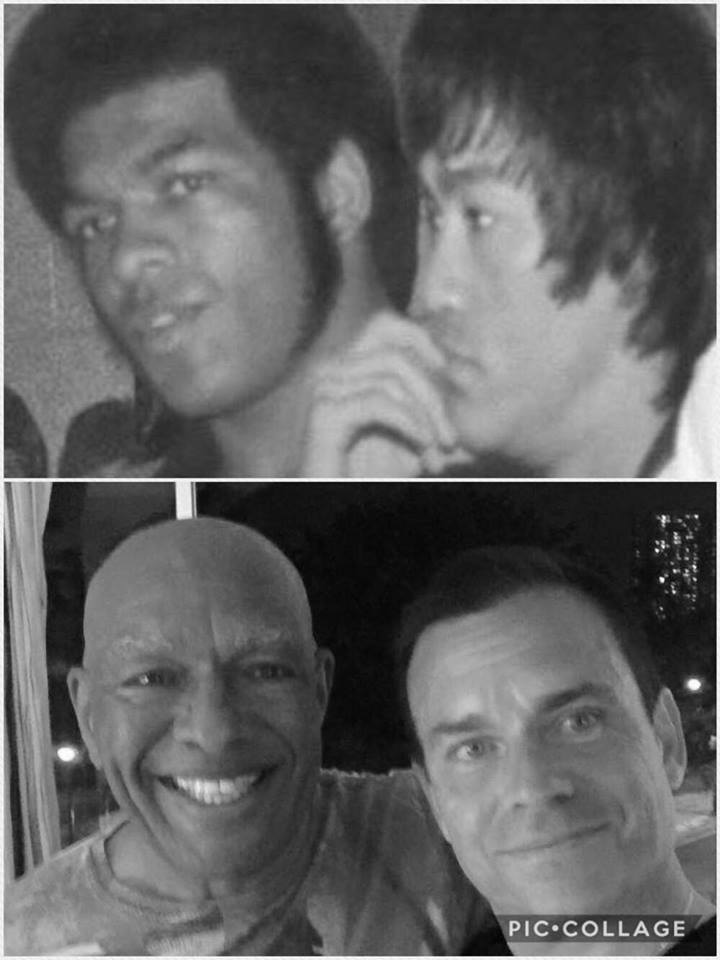 HONOREE Sifu, Sensei Matt Plewes with Ron "The Black Dragon" Van Cleif and The Black Dragon with his friend "The Dragon" Bruce Lee.
CAI KUNG FU BASED GOSHINJITSU
MATT'S 45 YEAR HISTORY