8/2022
CONGRATULATIONS to K.Nakamoto on his promotion to Blue Sash (4th Class)in the long program!
4/2022
ショートプログラムB.E.A.R.で認定してくださった中本さん、おめでとうございます。 少林拳の長いプログラム、詠春拳の基礎とJKDの概念で、5級から4級のストライプに昇格しました。
CONGRATULATIONS TO Mr. K. Nakamoto for certifying in the short program B.E.A.R. and being promoted to 5th Class-4th Stripe in the long programs of Shaolin Kung fu, and Wing Chun fundamentals and JKD concepts.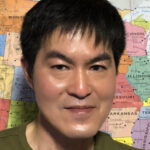 3/2022
CONGRATULATIONS TO THE TEACHER!
先生は国際的な武道家の殿堂に選ばれました。 これは、伝説と武道のトップリーダーによって投票された世界で最高のものだけに高い名誉です!
Our Teacher was personally nominated and inducted into the Ultimate Warrior Hall of Fame class of 2022 by the legendary Ron "The Black Dragon" Van Clief.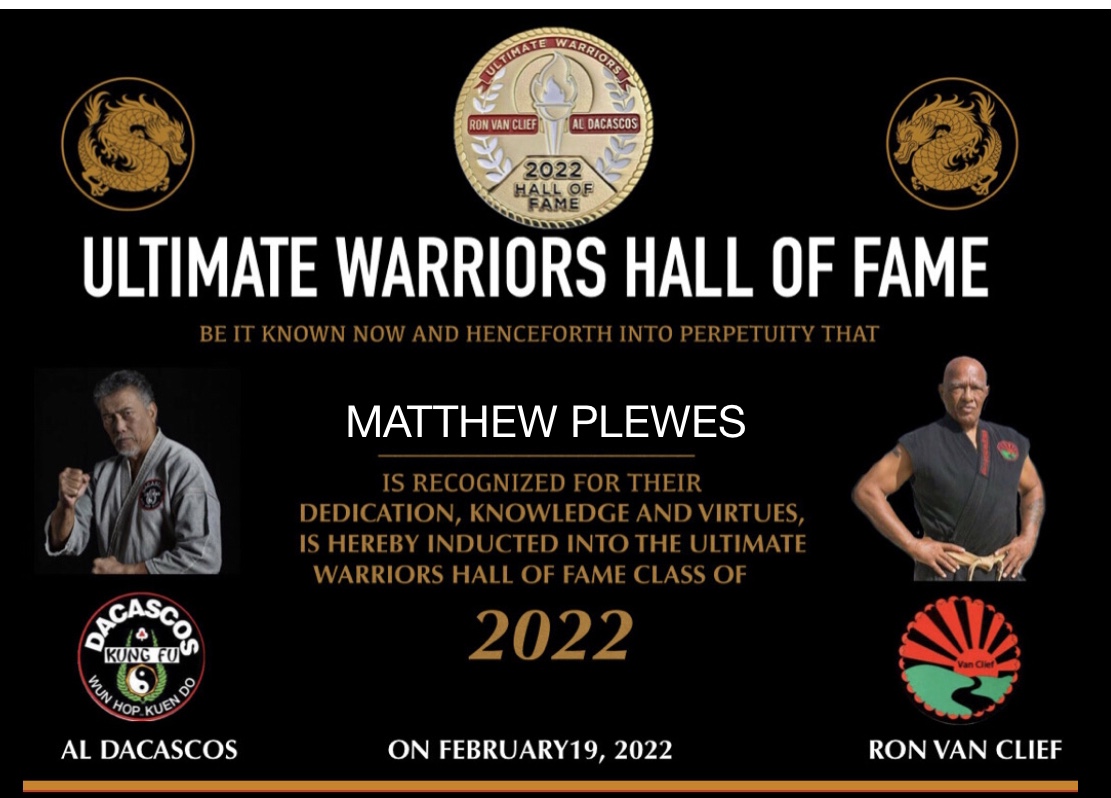 2/2021
MASTER BANKS HAS PASSED AWAY.
Master Nicholas Banks was the teacher of Master Samuel Cheeks, Master Plewes's Teacher.

THE LIFE OF WILLIAM NICHOLAS BANKS Jr. aka "Nick Banks"
William Nicholas Banks, Jr. was born to William Nicholas Sr. and Etta Brown Banks on October 21, 1943 at Mary Immaculate Hospital in Newport News, Virginia. He was the second born of eight children: Robert (died in infancy); Nick, Judith, Jeffrey Wayne, Al, Karen, Kevin and Dorie. Nick was raised in a family where faith, education, the work ethic, and commitment to family were the building blocks of their lives. Nick grew up in the Zion Baptist Church of Newport News.
Nick attended Newport News Public Schools and graduated in 1961 from Huntington High School. He attended Norfolk State University for a year and then left to pursue other vocational interests and a career in his lifelong passion which was the creative arts.
Nick was married at a young age to Jacqueline Metts, and from that union was born William Nicholas Banks, III and Robin Banks (Crossley). That is when Nick realized how much he loved and enjoyed being a father. Some years later he found a new companion in Ms. Tina Owens and fathered Kenny Owens out of that relationship.
In December 1971, Nick married the love of his life, Alfreda Ward, and that union has stood the test of time. For over 50 years, they have had a solid bond of love, commitment, and devotion. They experienced all the joys and challenges of their life's journey together hand in hand, and with heart filled love. Five more children were added to their family circle during this marriage.
Nick's work history included employment with the Newport News Shipbuilding and Dry Dock Company and the Longshoreman Company in Norfolk. Nick was born with an entrepreneurial spirit and mind set and during his lifetime, he embarked on several businesses which reflected his interest in the creative arts and community service.
As a young man, Nick opened the Man of War Karate School, 15 in total, where he taught martial arts and street-smart self-defense to many of the youth in the community. He made sure they learned Christian values, discipline and respect for themselves and others. He delighted in taking the young people to karate tournaments held around the state of Virginia. He had a professional fighting team that competed and were victorious in Pennsylvania, New Jersey, and New York. His goal was to improve the lives of community youth. He responded when they asked him to sponsor dances for them at the Shipyard Building located next to Huntington High School. That he did on Friday nights bringing in a local disk jockey and inviting his Mother to host the snack bar. His commitment to youth in the community was strong and never ending. This was further demonstrated when he created the Etta Banks Scholarship Fund in his Mother's memory to support young people's educational pursuits.
Nick shared that his interest in the arts was born when his parents and three of his siblings lived on 32nd Street in Newport News. As a young child, his favorite past time was drawing. Not only that, he began to make his own toys out of cardboard. He created small towns, cars, boats and then the people who used them. And he delighted in being the storyteller for Judy and Wayne at bedtime. Another influence on Nick's artistic gifts were the visits to his paternal grandparent's farm in Surry, Virginia. There as a young child, he was exposed to wooded farmland, beautiful springs, the fishing pier, vegetable, and flower gardens. These childhood experiences became the subject of many of his impressionistic drawings and paintings. Nick is the author of six books chronicling his life and adventures.
Nick birthed many small businesses during his lifetime, many of which provided employment opportunities for many others. Lollipop Art Distributors, Inc., located in Newport News, was the center of much of his most recent art and entrepreneurial activities. This local gallery provided a place for him to work and share with others his creative gifts through his paintings and drawings.
One of the most endearing and everlasting qualities of Nick was his love for family. He loved his Mother and Father. He loved his wife, and he loved his children and his grandchildren. He loved his sisters and his brothers. His Aunts and uncles and his nieces and nephews. He loved his cousins and he loved dear friends of the family. It is written this way because Nick was bold in articulating and demonstrating his love for his family. And he made sure time was spent together. Nick invited family members to spend time together at local resorts where he would pay all expenses. To the very end, Nick was sending cards and monetary gifts to family members to make contact and to show love and support. He was generous and he was kind.