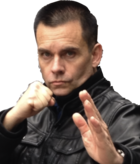 International Director: USA, Japan, Singapore
Matthew Plewes, 8th Rank/Degree, 45 year martial artist. Matt studied Seikukan Karate-do, under Terumasa Ogawa from 1976-1981 and Shaolin Wu Xing (5-Animal) Kung Fu, achieving Full Instructor status by Samuel Cheeks from 1984-1999.
Matt is a Two time Hall of Fame Inductee.
2010 IIMAA HALL OF FAME-Grandmaster of the year 2010 (グランドマスター-国際的な殿堂)and/とTHE ULTIMATE WARRIORS HALL OF FAME CLASS OF 2022.
Matt has trained and taught in America 25 years and Japan 22 years. Matt trained with and taught police and active military at his school in Suffolk, Va. in the 1990's before moving to Japan.  Our Short Programs were designed based on these professional training experiences receiving real world application feedback.
Matt also studied Chi and Chin'na and Yang Style Tai Chi and Qigong under Li Sun, a member of The Shanghai Taichi quan Association.
Matthew and his Japan school was Featured on TV in Japan.
Matthew has also done promotional commercials for TV in Japan for martial arts movies. Matt teaches full time at various locations in Shizuoka, Japan.
Matt had been referred to as a "Big Fish, in a small pond" meaning he is highly skilled, but in the tradition of his teachers, keeping smaller clubs with high quality students, rather than trying to over commercialize with less talented students. This also keeps the programs pure and not watered-down by "partially" trained students moving on..
Matthew founded ICMAIA (International Combat Martial Arts Instructor Association) A moderate sized association for Chuntian related program instructors to help regulate the programs and to have a share and communication portal.
As of March 2022, Matthew Plewes was inducted into the 2022 Ultimate Warriors Hall of Fame by the living martial arts legend Ron "The Black Dragon" Van Clief.
Matt is also available for seminars in America and Singapore in support of his instructors
CELEBRATING 45 YEARS!

CONGRATULATIONS TO THE TEACHER!
先生は国際的な武道家の殿堂に選ばれました。 これは、伝説と武道のトップリーダーによって投票された世界で最高のものだけに高い名誉です!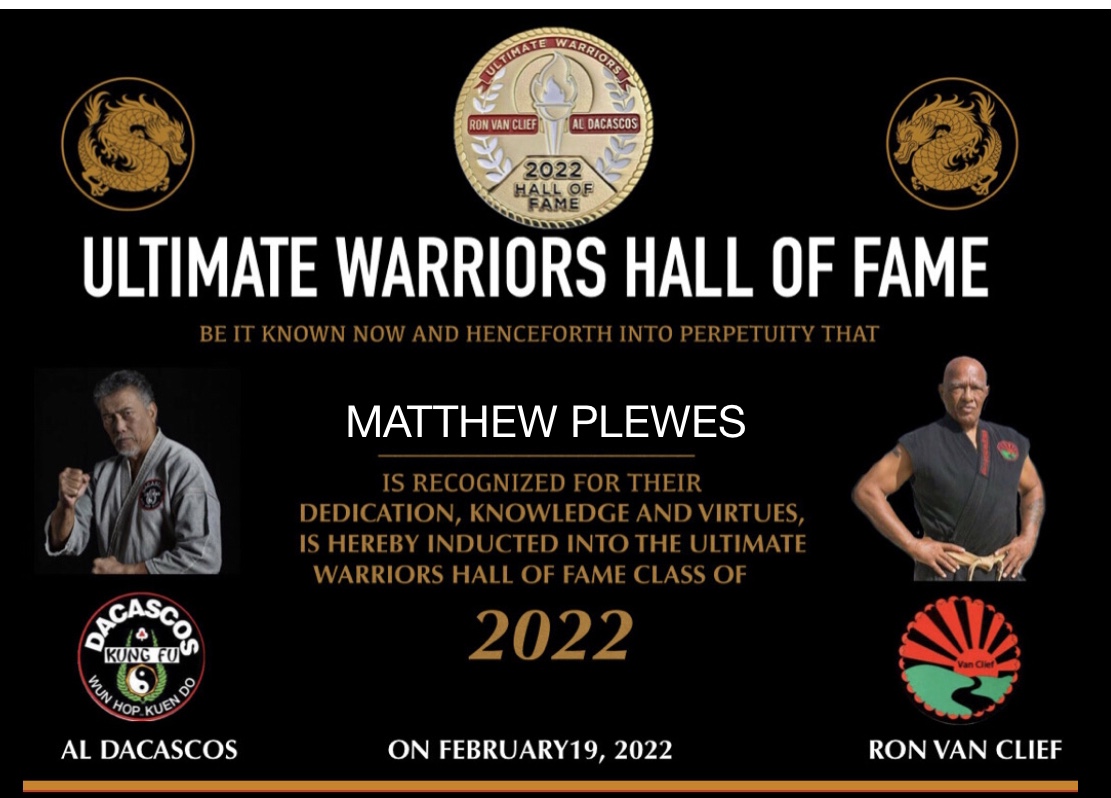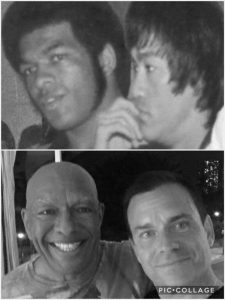 Master Plewes pictured with the legendary Black Dragon, who is pictured with his friend the legendary DRAGON aka. Bruce Lee!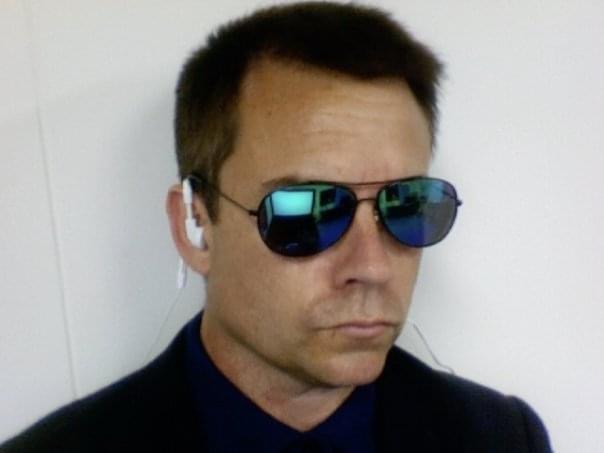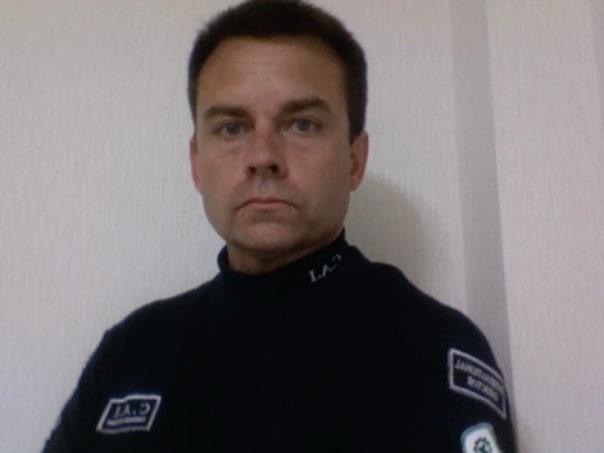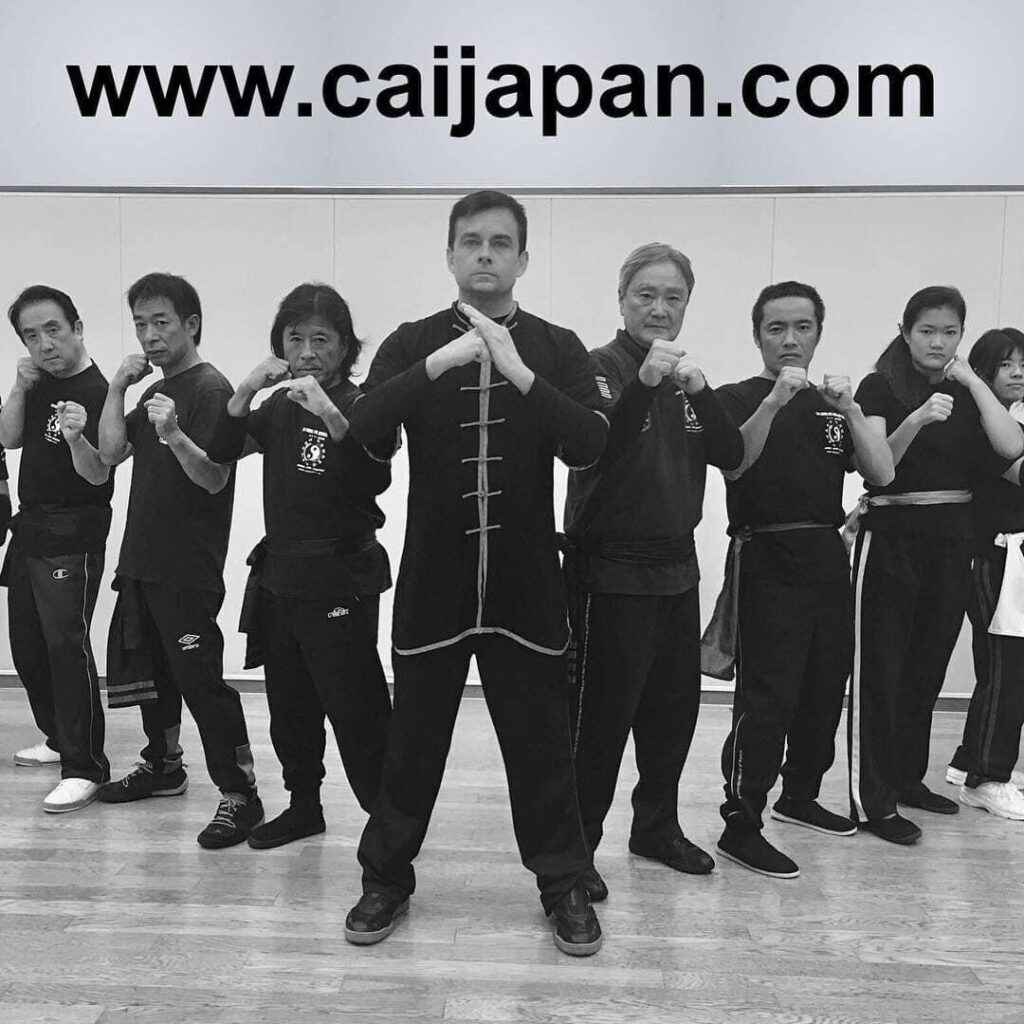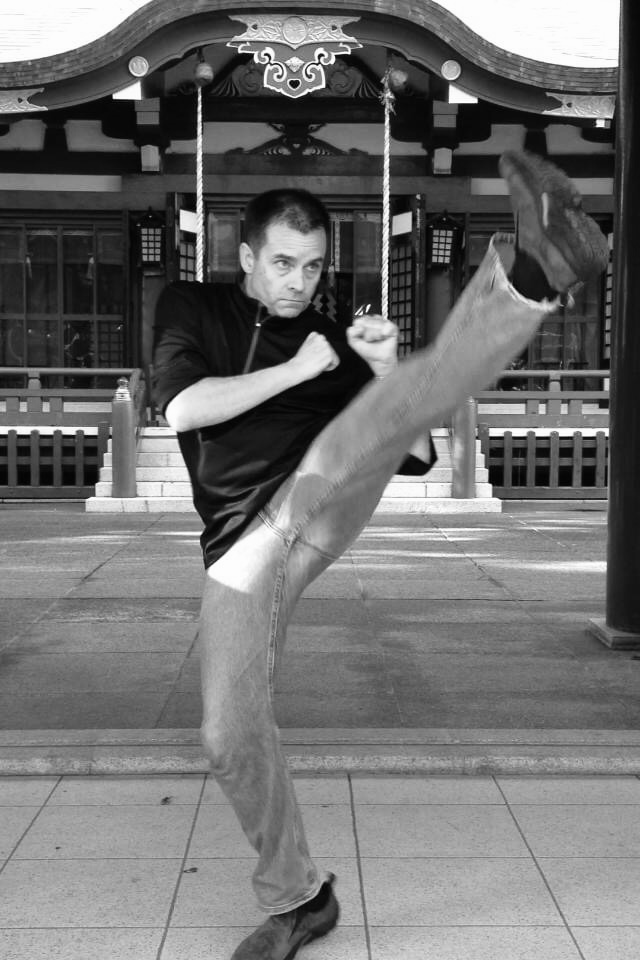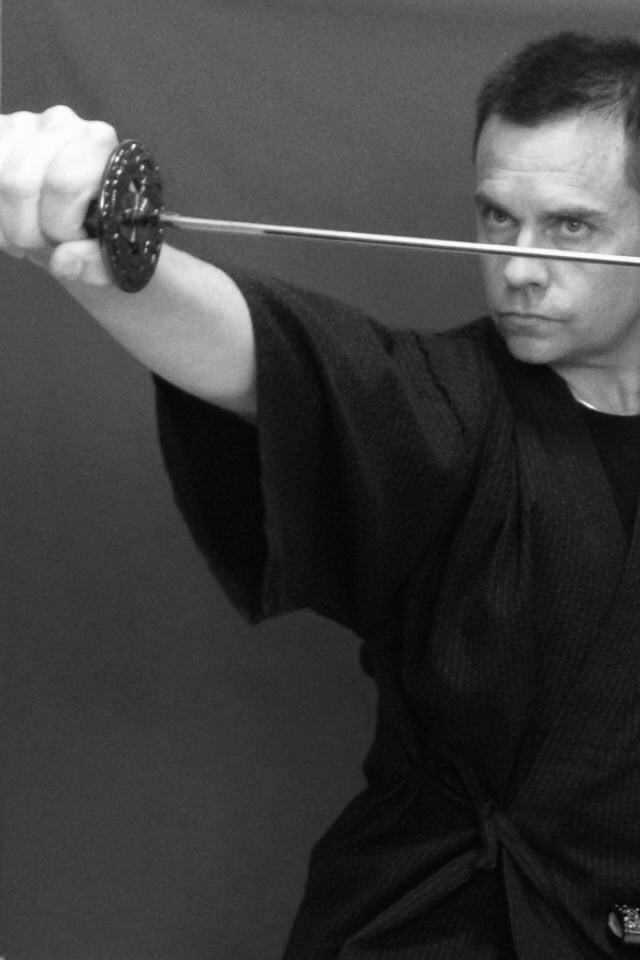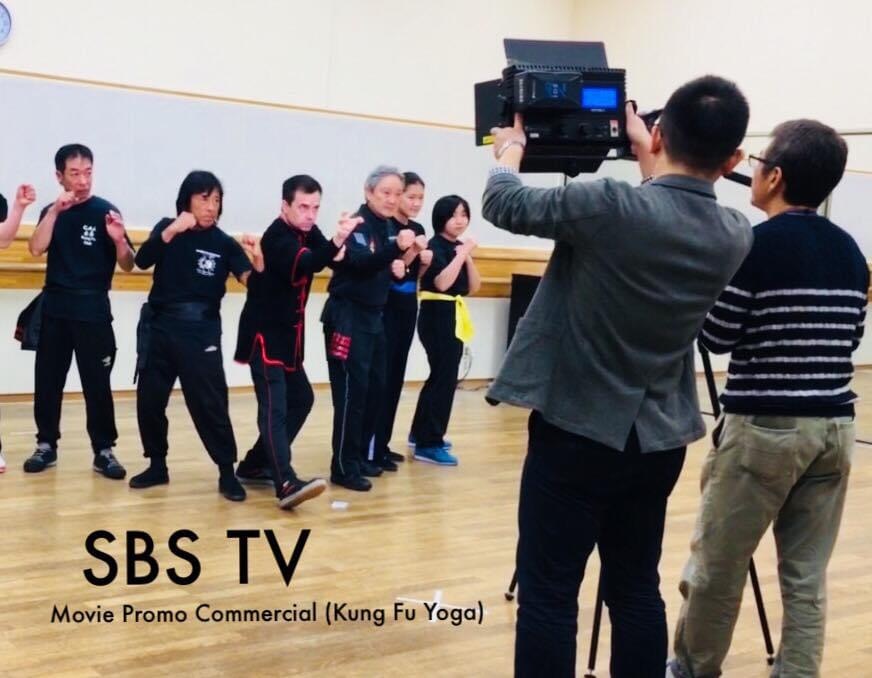 In Shizuoka, Japan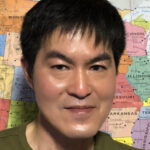 Master Plewes holds Friday and Saturday class at Plewes Center in Ashikubo, Shizuoka City, Japan.
Sihing K.Nakamoto has been a private student training under Matt Plewes. He is the class liaison and student leader at the new Shizuoka city – Ashikubokuchigumi Class. He is a kung fu student and a short program student receiving his B.E.A.R. certification in April of 2022. Mr. Nakamoto speaks English and Japanese.
中本は静岡市新足久保口組のマット・プルーズの私立学生です。 彼は日英の連絡係になります。 彼は新しいクラスの新入生のリーダーになります。 彼はカンフーの学生であり、彼のB.E.A.Rを受け取っているショートプログラムの学生です。 彼は2022年4月に認定されました。中本氏は英語と日本語を話します。
Singapore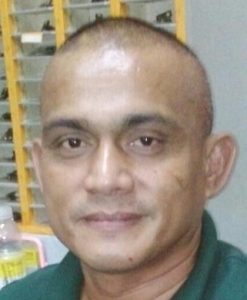 Instructor: Sheikh Azmir Ally. Bodyguard and Security Certified. SACT certified instructor. 10 years with Chuntian Academy Japan under Master Instructor Plewes. Special program teacher approved. Given General Instructor Status to operate independently Chuntian Academy Singapore.  Mr. Ally has permission to adjust programs to the needs of his operational area.
America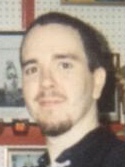 Mr. J. Pevahouse, a top student and diligent student that was giving permission to lead the USA class while Master Plewes was in Japan. He is very knowledgeable in martial arts and capable to do his own classes and programs. He is also a talented artist.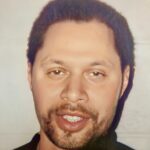 Master Sam Cheeks, 9th Rank. 55 years of Kung fu study. Retired from teaching after M.Plewes completed the system and took over. Master Cheeks is a diligent martial artist. He has a history in Judo and Jiujitsu before finding Nicholas Banks Man-O-War Karate school in the 1970's. Man o War was focused on practical self defense taught to neighborhood youth, often in parks around town. The top students would be taught the advanced program which was the original fundamental Shaolin Five Animal Kung Fu system. Master Cheeks took on Matt Plewes and taught him several days a week for several years. Master Cheeks preferred to train alone and not have a school. Matt Plewes was granted full teacher status and took over all teaching of the system and called the collective programs "Chuntian Academy" and not really having a style or system name.
Late, Great Grandmaster Nicholas Banks. Posthumously 11th Rank Black Belt.
(1943-2021) Master Cheeks teacher.
THE LIFE OF WILLIAM NICHOLAS BANKS Jr. aka "Nick Banks"
William Nicholas Banks, Jr. was born to William Nicholas Sr. and Etta Brown Banks on October 21, 1943.
In December 1971, Nick married the love of his life, Alfreda Ward, and that union has stood the test of time. For over 50 years, they have had a solid bond of love, commitment, and devotion. They experienced all the joys and challenges of their life's journey together hand in hand, and with heart filled love. Five more children were added to their family circle during this marriage.
Nick's work history included employment with the Newport News Shipbuilding and Dry Dock Company and the Longshoreman Company in Norfolk. Nick was born with an entrepreneurial spirit and mind set and during his lifetime, he embarked on several businesses which reflected his interest in the creative arts and community service.
As a young man, Nick opened the Man of War Karate School, 15 in total, where he taught martial arts and street-smart self-defense to many of the youth in the community. He made sure they learned Christian values, discipline and respect for themselves and others. He delighted in taking the young people to karate tournaments held around the state of Virginia. He had a fighting schools in Pennsylvania, New Jersey, and New York. His goal was to improve the lives of community youth. He responded when they asked him to sponsor dances for them at the Shipyard Building located next to Huntington High School. That he did on Friday nights bringing in a local disk jockey and inviting his Mother to host the snack bar. His commitment to youth in the community was strong and never ending. This was further demonstrated when he created the Etta Banks Scholarship Fund in his Mother's memory to support young people's educational pursuits.
AMERICA 
Matthew Plewes is available to do seminars in early September annually in America by way of sponsor and appointment.
警告とバイヤー注:日本:CAIを使用したSBS学園クラスはキャンセルされます。 カンフープログラムの一部を勉強したばかりで、FAST、SACT、LOSERなどの著作権で保護されたプログラムで新しいプログラムを開始したばかりの元学生。 彼はまだ資格がないと言われましたが、彼は自分のクラスを持つことを正当化するためにプログラムを変更しました。 システムを純粋に保つために、このプログラムを混在させることは固く禁じられています。 彼は違法であり、協会から追放されており、インストラクターではありません。 彼は厳格な要件を完了せず、彼のトレーニングは完了しませんでした。 彼はもはやメンバーでもインストラクターでもありません。